Looking to buy flip flops this summer?
Inspired by the Japanese "yori" sandal and patented by New Zealander Maurice Yock in 1957, flip-flops are popular fashion accessories for ocean bunnies, beach beauties and southern California fashionistas.
Because these rubber and plastic shoes are spring and summer staples , it's not difficult to score a cute pair of cheap flip-flops at your neighborhood Target and at online retailers.
But first, a little flop flop history:
Of all the shoe types worn today, the sandal is the simplest and probably the oldest.
In fact, the Hebrews, Greeks, Egyptians and Romans all wore sandals. And even the Chinese upgraded the sandal with a reinforced sole to make their treks around the hills and valleys of China more manageable.
In the United States however, the rubber flip-flop is quite popular for summer– whether you are strolling along the beach in your Havaianas or attending a backyard barbecue wearing old Navy flip-flops.
While grabbing a pair of pink, yellow or baby blue cheap flip flops to match your string bikini is ideal, you shouldn't sacrifice quality and fit when buying these sexy slides.
Before you head out on your next flip flop shopping excursion, read on for these essential flip-flop tips and tricks.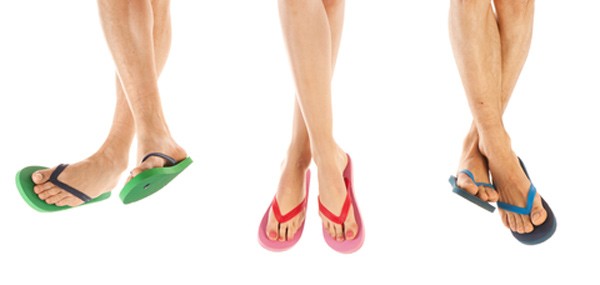 Buy a Pair of Flip Flops that Fit
Buying too short sandals are an issue whether you wear a size 5 or 12 shoe.  When trying on that fabulous pair of inexpensive flip-flops your foot should sit squarely on the sole of the shoe, and there should be no heel or toe spillover.
Don't Trust Sandal Sizes
Just because you wear a size 7 shoe in one brand, doesn't mean that size is comparable to your favorite flip-flop brand.  When in doubt, try a sandal that is a ½ size larger than your normal shoe size to prevent toe hangover and heel spillage.
The Flip Flop Should Feel Substantial to the Touch and not Flimsy
How many times have you bought a pair of discount flip-flops and plastic thong separates from the sole after a few wearings.  A quality flip-flop will feel heavier than its 2 dollar counterpart, have quality rubber soles and will look as good as the 50th time your wear it as it does the first.
Buy Flip Flop Brands That you Know and Like
When shopping for a bathing suit that complements your body shape, it's best to buy brands that hug your curves perfectly. Whether you prefer a store brand or Brazilian Havaianas, buy the best pair of cheap flip flops that will complement your swimwear and fit the way you expect them to.
How to Clean Your Flip-Flops
When your summer rubber sandals get dirty, you can give them a gentle cleaning with a paste of liquid dish soap, water and baking soda.  Smooth the paste over the shoes, let it sit for 5 to 10 minutes, then scrub off the mixture with a soft bristled brush dipped in warm water.
If your shoes are leather, wipe off any surface dirt using an old t-shirt dipped in equal parts of water and white vinegar. For suede sandals, rub the leather gently with an emery board or low-grit sandpaper to lift the dirt from the suede's nap.
Here's a video explaining how to clean your shoes like an expert!
The Most Important Flip Flop Do's and Don'ts
Shop for flip-flops that constructed of soft and high-quality leather. A leather shoe will minimize any potential for irritation between the toes and blisters. made of high-quality, soft leather.
Select the right size shoe. It's better for you to buy flip-flops too-large than too-small. The best pair will be closest to your regular dress shoe size.Make sure your feet don't hang over the edge of the sandals.
Buy new flip-flops each year. Why? Because flip-flops are a magnet for dangerous and deadly bacteria. If you are a germ-a-phobe and want to skip any contact with the potentially and surprisingly deadly germ – Staphylococcus aureus, get a new pair of rubber or plastic sandals each Summer.
Taking a long walk or are you engaging in athletic activity? Skip the flip-flop sandals. Flip-flops aren't the best shoes you can take a long stroll in. Why? You could possible twist your ankle or irritate your toes. In fact, walking for more than 2 or 3 hours without orthotic support may even cause back pain and tendinitis.
Most importantly, your flip-flops should feel good and look great. These summery sandals should complement your pedicure and your best figure-flattering swimsuit easily.
The next time you're shopping for a new pair of cheap flip-flops, don't stand in the aisle of the shoe department staring at these sandals in despair. Use these expert fashion tips to buy the best flip-flops when you go that feature maximum wearability and versatility.
Here are a few more flip-flop tips to help you make the right choice in footwear: